Ready to apply?
Admission to the program is highly competitive and limited to 36 openings each year. Please visit the PTCAS website for more information and to apply.
Application Timelines
June 15: PTCAS opens
November 1: Pacific DPT deadline for verification of application and supporting materials
January 1: Selected applicants are invited to interview 
February 15: Interviews are completed
March 1: Initial offers made with a 2-week deadline to confirm acceptance
March 15 - July 1: Offers made as positions are available
July 15: Prerequisites, observation hours, and degree verification are due
Late August program start date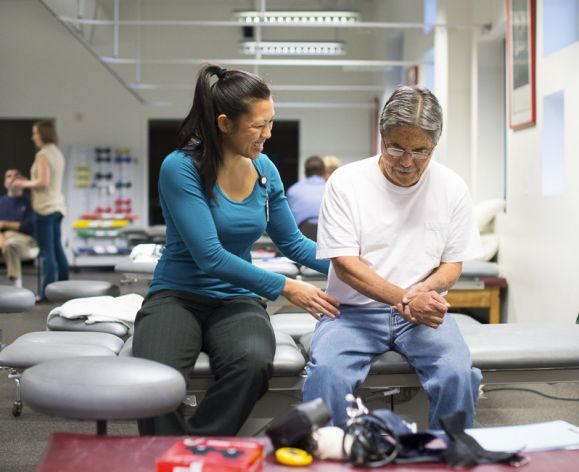 Admission Requirements
PTCAS Application - Opens June 15, 2023
Three (3) Letters of Recommendation - Completed through PTCAS
GRE General Test - Sent to PTCAS; University of the Pacific, DPT Program, PTCAS GRE Code = 0211
Official transcripts should be sent directly to PTCAS. Official transcripts need only be sent to University of the Pacific if admitted.
International Applicants ONLY: TOEFL Exam or IELTS Exam
Important Notes About Applying
The deadline for the 2023-2024 cycle has been extended to November 15th.
The deadline is a verified application deadline, meaning that your application must be complete, submitted, and verified by PTCAS by November 1 in order to be considered.
Please plan ahead! We recommend you submit your application no later than October 15. After submitting your application, please respond promptly to any information requests by PTCAS as they process it.
Bachelor's degree with a major of the student's choice.
Successful completion of the listed prerequisite courses.
Prerequisite courses must be completed with a grade of "C" or above
Courses are taken on a graded basis; pass/fail courses are not acceptable.
Biological science, chemistry, and physics courses must all include significant laboratory experiences.
It is recommended that prerequisite courses in Biology, Exercise Physiology, Anatomy, and Physiology be taken within ten years of applying to the program.
At least 50 hours of experience in physical therapy practice settings which includes at least 25 hours in acute care, in-hospital setting (NOTE: sub-acute and any other non-acute care settings do not satisfy this requirement). The Department encourages you to visit the APTA website for the definition of acute care and descriptions of that setting: http://www.apta.org/PTCareers/Overview/.
GRE test scores must be less than five years old at the time of application. Please contact the Graduate School if you have questions.
A personal interview at the invitation of the selection committee is required.
All prerequisite courses/labs must be completed at an accredited institution. All courses must have defined objectives, a course description, an objective grading system with a letter grade, and meet the content expectations of the prerequisite. With the exception of Medical Terminology, the program does not accept online courses as the fulfillment of prerequisite coursework, except during the pandemic between February 2020 and December 2022; from Spring 2023 – Spring 2024, classes may be online, but labs must be in person. Contact PTAdmissions@pacific.edu for prior approval for an online Medical Terminology course only.
Pacific will NOT accept AP courses to fulfill prerequisites.
General Prerequisites
General Biology with lab and another course in Biological sciences (not botany) with or without lab: 6 semester credits/9 quarter hours minimum.
Human Anatomy with Lab: 4 semester units/5 quarter hours minimum.
Human Physiology with Lab: 4 semester units/5 quarter hours minimum.
General Chemistry with lab: 8 semester units/12 quarter hours minimum.
General Physics with lab: 8 semester units/12 quarter hours minimum.
Abnormal Psychology: 3 semester units/4 quarter hours minimum.
Statistics: 3 semester units/4 quarter hours minimum.
Exercise Physiology: 3 semester units/4 quarter hours minimum.
Medical Terminology: 1-3 semester units/ 2-4 quarter hours minimum.
View the Approved Prerequisite List (XLSX)
While every effort has been made to create an accurate list, it is the applicant's responsibility to be aware of the prerequisite requirements. Colleges and universities do re-organize, rename, add, and remove courses, course information, and hours so the information above may not be accurate or up-to-date. If an applicant has questions they can contact Admissions at ptadmissions@pacific.edu for clarifications or to see if another course may meet the requirement.
Questions?
Check out our FAQ page, attend an information session, call us at 209.946.2886 or email PTAdmissions@pacific.edu.
Applicants to Pacific's DPT program are strongly encouraged to attend an information session. Experience the campus and learn more about our DPT program. You will also have the opportunity to ask questions about our program and admissions process.