We continue to monitor the impact of COVID-19. The Admissions Committee has reviewed their policies with special consideration for the effects of COVID-19 on our applicants. The current policies have been established with these considerations in mind. For this reason, and in keeping with our Program's policies, we are unable to waive any of our admission requirements for any reason.
As more jurisdictions across the country are closing schools, limiting large gatherings, and taking other measures to create social distance to minimize the spread of COVID-19, we have asked our staff to work remotely in the near term and all admissions information events have been either canceled or moved online. Given this change, we'd like to assure you that we have robust technology and a culture of flexibility that allows us to continue providing you with uninterrupted service.
We are closely monitoring guidance from the World Health Organization, the CDC, and state and local authorities and will provide up to date information on our website as new information becomes available.
Graduate Admissions Process
Ready to Apply?
Due to the competitive nature of our program, applicants are encouraged to submit their applications to the Master of Science in Speech-Language Pathology program, prior to the priority deadline of January 15th. Applicants who meet the January 15th priority deadline can expect an admissions decision by mid-February. Applications will continue to be accepted through the final deadline of February 1st at 11:59 p.m. EST. Admissions decisions for all applicants meeting the February first deadline will be sent out by the end of March.  Our goal is to make admissions decisions earlier to allow applicants to make their graduate school plans earlier.
Number of students admitted
For the Fall 2021 admissions cycle we received 95 applicants. We admitted 24 students to the 15-month graduate program and 7 students to the 24-month program.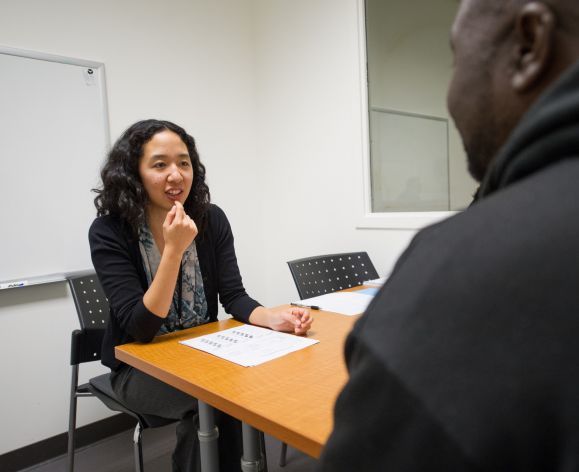 GPA Requirements
Minimum GPA to apply to the graduate program is a 3.0 for the last 60 units of study.
Transfer of credits policies
Units for any coursework taken outside of the University of the Pacific cannot be transferred at the graduate level.  All graduate level speech-language pathology courses must be taken at Pacific.
The CSDCAS online application includes:
Transcripts
Official transcripts, from all institutions attended post high school (this includes vocational/technical school transcripts), must be submitted to CSDCAS as part of the application. DO NOT mail transcripts to the university at this time.
Official GRE Scores
As of April 2022, the GRE is no longer required.
Personal Statement
There is no assigned prompt for the essay, however, your personal essay should describe your motivation, skills and abilities that will contribute to your academic and clinical success in our program. 
Three (3) Letters of Reference
All letters of reference must be sent in using the CSDCAS online system. At least one letter of reference should come from a university faculty member.
Video Recording
Each applicant must submit a 3-4 minute video recording responding to the prompts detailed on CSDCAS. Once you have completed your video, please upload it to YouTube (be sure your video IS NOT set to "private" or we will be unable to view it; instead, select "unlisted") and submit your video link in the "Questions" portion of the CSDCAS application.
Prerequisites
CSDCAS now has a section titled "Prerequisites." In this section, you will answer questions related to various coursework you have taken in the field of speech-language pathology (these are considered 'prerequisites' for the 15-month program) and general education coursework taken (which is not required to apply but will be required prior to completing our program).
Documents
For all applicants applying to the 15-month program, you will submit your clinical observation hours in the "Documents" section of the application. Applicants that do not have hours to submit need to submit a Word document stating that they do not have hours to submit at this time.
 
Questions?
Applicants to the program are strongly encouraged to attend one of the department's graduate admission information sessions to assist them in making an informed decision about a graduate program that will best suit their needs. Each information session will be hosted by one of the department's faculty members and will provide an overview of the program, tours of the classrooms and clinic facilities, and opportunities for individual questions.
We look forward to meeting you on campus soon. If you have any further questions regarding the graduate application and admissions process, refer to our FAQ page or please contact the department's graduate program director, Dr. Larry Boles, at lboles@pacific.edu or 209-946-7490.