Ready to Apply?
The application for Pacific's ELMSN program is hosted on NursingCAS. To apply, visit the NursingCAS page.
Application Timeline
Fall 2024
November 1, 2023: Application Opens
February 15, 2024: Application Deadline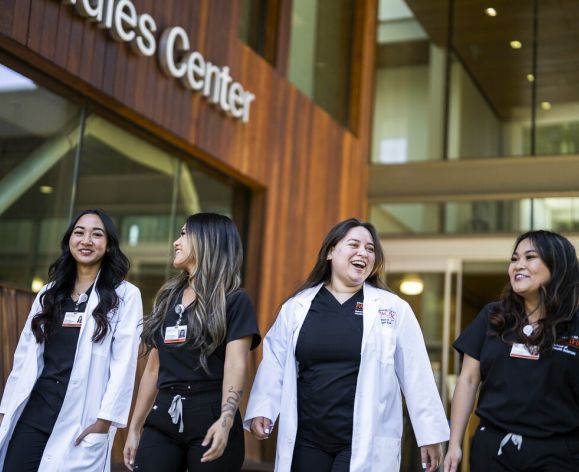 Admission Requirements
Completed Nursing CAS application

Transcripts must be sent electronically to NursingCAS, NOT Pacific

A bachelor's degree from an accredited program completed a minimum of ten weeks prior to the start of class.
A minimum overall GPA of 3.0

AND a 3.2 GPA in the last 60 units 

A minimum cumulative 3.2 GPA in all Nursing prerequisite coursework 
Three letters of recommendation (academic and professional) 
Statement of purpose, personal history statement, and career goals
Resume
All Nursing prerequisites must be completed a minimum of ten weeks prior to the start of class:

Human Anatomy with lab (4 units)
Human Physiology with lab (4 units)

Or Human Anatomy and Physiology series, part I & II with lab

Microbiology or Bacteriology with lab (4 units)
Statistics or Epidemiology (3 units)
Nutrition (3 units)
Sociology or Social Science (3 units)
Communication (total 6 units), written and oral communication

Must include one English or Written Composition course (3 units)
Must include one Group/Oral Communication or Public Speaking course (3 units)

Psychology
All decisions of the Nursing Admissions Committee are final; no appeals are permitted.
ELMSN Program Technical Standards
The student must be able to achieve and maintain specific technical standards of knowledge and skill to complete the ELMSN Program successfully. The technical standards in this document apply to satisfactory performance in all academic and clinical course work, as well as fulfillment of essential non-academic functions of the curriculum involving physical, cognitive, and behavioral factors that are essential to a professional nurse.
More specifically, a student in the Nursing Program must have adequate abilities and skills in the following five areas: 1. Observation; 2. Communication; 3. Sensory and Motor Function; 4. Intellectual, Conceptual, Integrative, and Quantitative Abilities; and 5. Behavioral and Social Attributes.
Observation: A student must be able to observe a patient accurately at a distance and close at hand to assess patient cues and data (e.g., respiratory effort, gait, posture, appearance). Observation necessitates the functional use of the sense of vision and other sensory modalities. A student must be able to integrate all information visually and through the other senses.
Communication: A student must be able to communicate effectively and sensitively in English with patients, family members, and members of the health care team. Communication includes not only speech but non-verbal communication, writing, reading, interpreting tables, figures, graphs, and computer literacy. A student must be able to elicit patient information, perceive nonverbal communications, and describe changes in mood, activity, and posture. Communication also must demonstrate respect for individuals and populations to embrace diversity, equity, and inclusivity
Sensory and Motor Function: A student must have sufficient physical stamina to complete the rigorous course of didactic and clinical study. A student must be able to perform the following functions independently. A student must have sufficient sensory and motor function to elicit information from patients by palpation, auscultation, percussion, and other diagnostic maneuvers. A student will be required to coordinate both gross and fine muscular movements, equilibrium, and functional use of the senses of hearing, touch, and vision. More specifically, a student must be able to exercise such fine motor skills as to perform laboratory tests adequately, procedural skills, and perform required general nursing care and emergency treatments. A student must exercise such level of dexterity, sensation, and visual acuity as to accurately complete such processes as administering intravenous medication, making fine measurements of angles and size, measuring blood pressure, respiration, and pulse, performing physical examinations and performing therapeutic procedures and standardized procedures. A student must be able to hear sufficiently to differentiate percussive notes accurately and auscultatory findings, including but not limited to heart, lung, and abdominal sounds, as well as discern normal and abnormal findings using instruments such as stethoscopes, sphygmomanometers, and physiological monitoring devices. A student must be able to meet all physical requirements of clinical rotations and patient care. Clinical rotations may include any shift (days, evenings, and nights), and the length of the shift may vary between 8-12 hours. Physical requirements include but are not limited to: the ability to safely assist with patient transfers for those who may require physical assistance, such as moving in and out of beds or chairs, when necessary, demonstrate strength to position, lift, move, and transfer patients; transport themselves in a manner which provides a timely response in both general and emergency care situations, stand for extended periods, and move in tight quarters and demonstrate proper body mechanics. Additionally, a student must be able to demonstrate the ability to freely walk, stand, sit, squat, balance, climb, reach, grip, lift, pull, and push as needed in the performance of clinical duties. Engaging in some procedures, such as CPR, will require a necessary level of physical strength.
Conceptual, Integrative, and Quantitative Abilities: A student must have the intellect to quickly analyze situational and clinical problems and formulate appropriate judgments and interventions. These intellectual abilities include numerical recognition, measurement, calculations, reasoning, analysis judgment, and synthesis. The student must be able to identify significant findings from the patient's history, the physical examination, and laboratory data, provide a reasoned explanation for likely diagnoses and choose appropriate medications, nursing interventions, and therapy. The ability to incorporate new information from many sources in formulating diagnoses and plans is essential. Diagnostic reasoning and clinical judgment in patient assessment, diagnostic and therapeutic planning is primary. When appropriate, students must be able to identify and communicate the limits of their knowledge to others.
Behavioral and Social Attributes: A student must possess the emotional health required for full use of their intellectual abilities, exercise good judgment, and have the prompt ability to care for patients and aggregates. Developing mature, sensitive, effective, and professional relationships with patients and health care team members is essential. They must be able to adapt to changing environments, display flexibility and learn to function in the face of uncertainties inherent in the clinical problems of many patients. Compassion, integrity, inclusivity, interpersonal skills, interest, and motivation are all personal qualities desired in a health professional and assessed during admissions and throughout the education program.
Ethical Standards: A student must demonstrate the ability to reason morally and practice nursing in a professional, ethical manner. This includes all practice and academic settings when working with patients, families, aggregates, community populations, faculty, peers, and all healthcare team members. Ethical standards further guide nursing practice to provide equitable care, embrace inclusivity, and value the diversity of our clients. Professional nursing practice is held to a high standard as outlined by the American Nurses Association Code of Ethics with interpretive statements (ANA, 2015).
The University of the Pacific will provide reasonable accommodations to students with disabilities otherwise qualified to complete the essential functions of the curriculum. However, the student must complete such essential functions in a reasonably independent fashion. A patient's safety and welfare shall never be jeopardized because of an effort to reasonably accommodate a disability.
Human Anatomy & Lab
Anatomy and Physiology
Included are a general survey of human histology and the study of structure and function of organ systems of the human body, including the integumentary, skeletal, muscular, endocrine and nervous systems. Structure and function of sensory organs are also included in the course. Correlated by laboratory experience and demonstration. Lecture (3 units) and required laboratory (1 unit).
Human Physiology & Lab
Human Physiology with Lab
Included is the study of structure and function of the circulatory (blood, heart, blood vessels and circulation), lymphatic, immune, respiratory, urinary and reproductive systems. Lecture (3 units) and required laboratory (1 unit).
Human Microbiology & Lab
Human Microbiology with Lab
A study of microorganisms with special emphasis on bacteria and viruses in the human environment. Lecture (3 units) and required laboratory (1unit)
Written Composition
Continued practice in writing with emphasis on critical thinking, argument, analysis and interpretation of multicultural readings and other interdisciplinary expository materials.
Interpersonal Communications OR Oral Communications
Interpersonal Communications
This class examines the dynamics of the two-person communication process. Students will study the development of self-concept, self- disclosure, perception, listening, and feedback as they affect the communication process. Non-verbal communication, attitudes, beliefs, and values will also be explored.
Oral Communications
This course is designed to introduce the process of public communication and to help develop and refine the skills of oral communication.
Nutrition
Fundamentals of Human Nutrition
Principles of nutrition with application to physiological needs of individuals; food sources and selections of an adequate diet, formulation of the Recommended Daily Allowances; nutritional assessment, and surveillance.
Statistics or Epidemiology*
Introduction to Statistics
Mathematical theory and applications, development of formulae, principles of statistical decision theory, descriptive measurements, probability concepts, random variables, normal distribution, inferential statistics, sampling distributions, confidence intervals, hypothesis testing, chi-squared procedures, linear regression, and the use of computers in statistics.
Epidemiology
Introduction to Epidemiology (4) Epidemiologic methods for non-epidemiology majors. Focuses on research designs and methods to describe disease occurrence and risk factor associations; uses quantitative and biomedical information to infer whether causal relationships exist between potential causes and disease in populations.
*Admission committee may request course description.
Sociology or Social Science
Sociology or Social Science
A general introduction to the scientific study of human behavior in social settings. It includes major theories of human behavior in terms of culture, socialization, primary groups, stratification and social class, population, family, religion, and social change.
Psychology
General, Lifespan or Developmental Psychology
Principles of psychological development from birth through senescence. Lifespan or Developmental Psychology are preferred, General Psychology is accepted.